Are you yearning for a getaway that combines excitement with charm? Look no further than Udaipur, often referred to as the Venice of the East. This magnificent city, nestled in the heart of Rajasthan, India, offers a perfect blend of historical grandeur and serene beauty. With its splendid palatial architecture harking back to an era long gone, Udaipur promises to captivate you with its regal past, vibrant markets, and tranquil ambiance. In this article, we'll take you on a tour of the top 15 must-visit places in Udaipur, ensuring you don't miss out on any of its enchanting wonders.
Udaipur City Palace: A City of Grandeur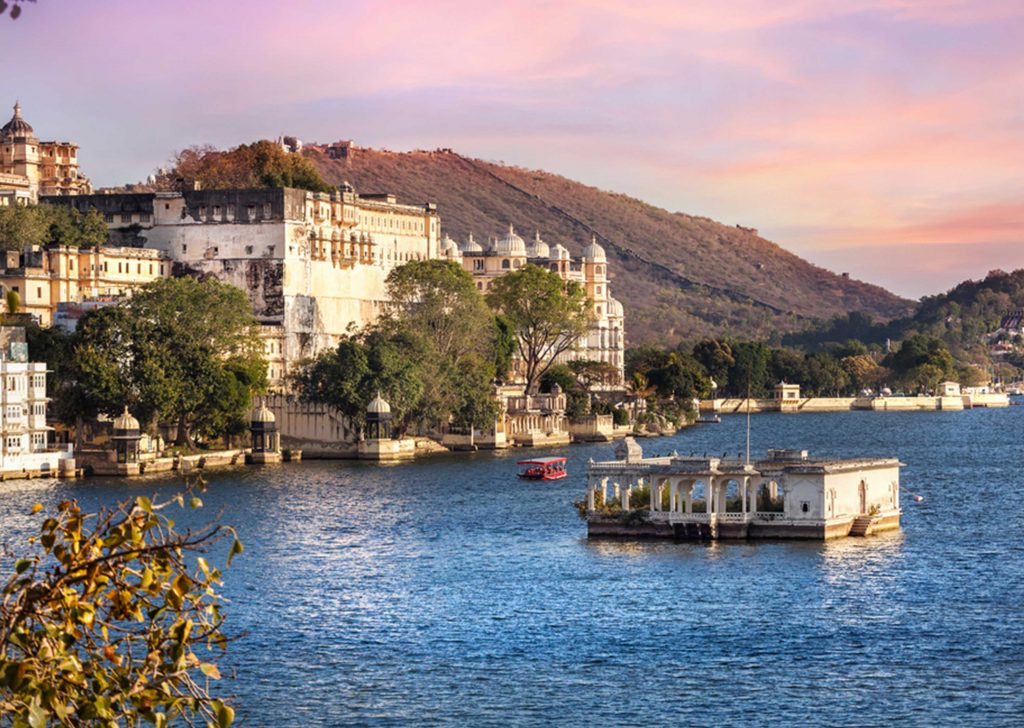 Udaipur City Palace stands as a testament to Rajasthan's princely grandeur. This towering marvel, situated by the picturesque Lake Pichola, offers a glimpse into the opulent lifestyle of the Mewar ruling family. The palace's interiors are a masterpiece, adorned with intricate mirror-work, captivating paintings, murals, antique furniture, and exquisite marble craftsmanship. Divided into several villas and palaces, including Amar Vilas, Bhim Vilas, and Moti Mahal, the palace complex is a true wonder. Don't miss the Mewar Light and Sound Show, an evening spectacle that adds a touch of magic to your visit.
Timings: 09:30 am to 05:30 pm (All Days)
Entry Fee: Rs. 30 for Adults, Rs. 15 for Children
A Floating Paradise: Lake Palace
Nestled gracefully on the mesmerizing Lake Pichola, the iconic Lake Palace is a sight to behold. Managed by the Taj Group, this palace offers breathtaking views of the Aravalli Hills. The romantic allure of this location is unrivaled, making it a favorite for visitors. The intricate sculpted marble and molding will leave you spellbound. The palace's heritage walks are an enchanting experience, and a boat ride from Rameshwar Ghat to the City Palace is a memory to treasure.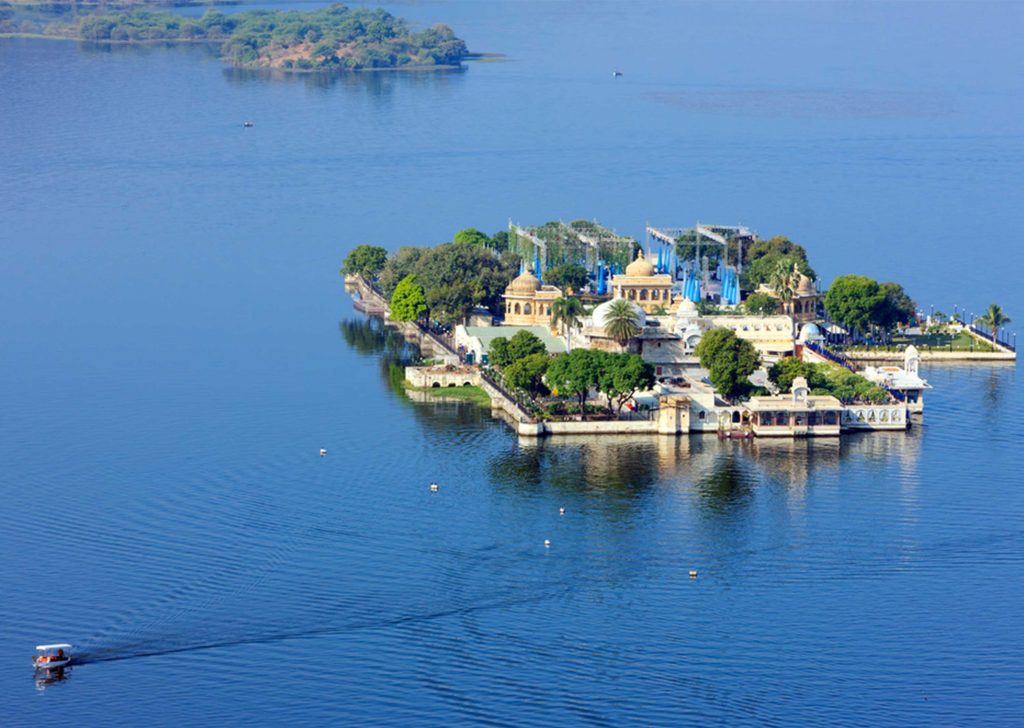 Timings: 09:00 am to 06:00 pm (All Days)
Entry Fee: None
Boat Ride Fee: Rs. 400 per Adult, Rs. 200 per Child
Tranquility on Lake Pichola: Jagmandir
Jagmandir, also known as Lake Garden Palace, is a 17th-century masterpiece situated on Lake Pichola. This romantic destination exudes tranquility and splendor. Divided into various sections like the Garden Courtyard and Gul Mahal, Jagmandir offers a unique experience during your boat ride.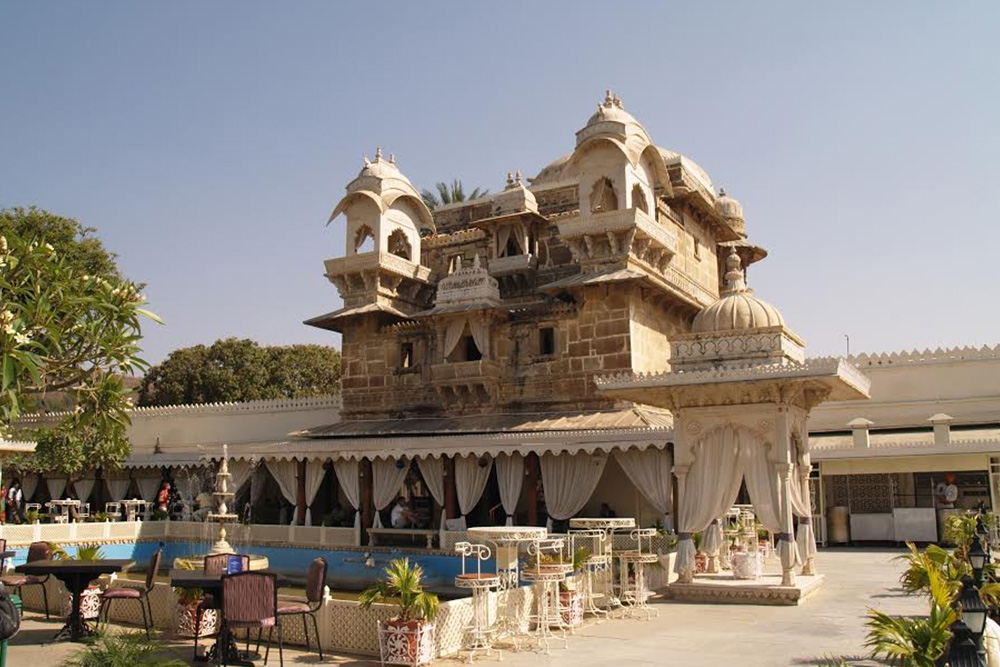 Timings: 10:00 am to 06:00 pm (All Days)
Entry Fee: None
A Divine Affair: Jagdish Temple
The Indo-Aryan architecture of Jagdish Temple is a testament to devotion. Maharana Jagat Singh's creation houses a black stone deity of Lord Vishnu and other shrines dedicated to various deities. Don't miss the captivating sunset Aarti, an experience that resonates with spiritual energy.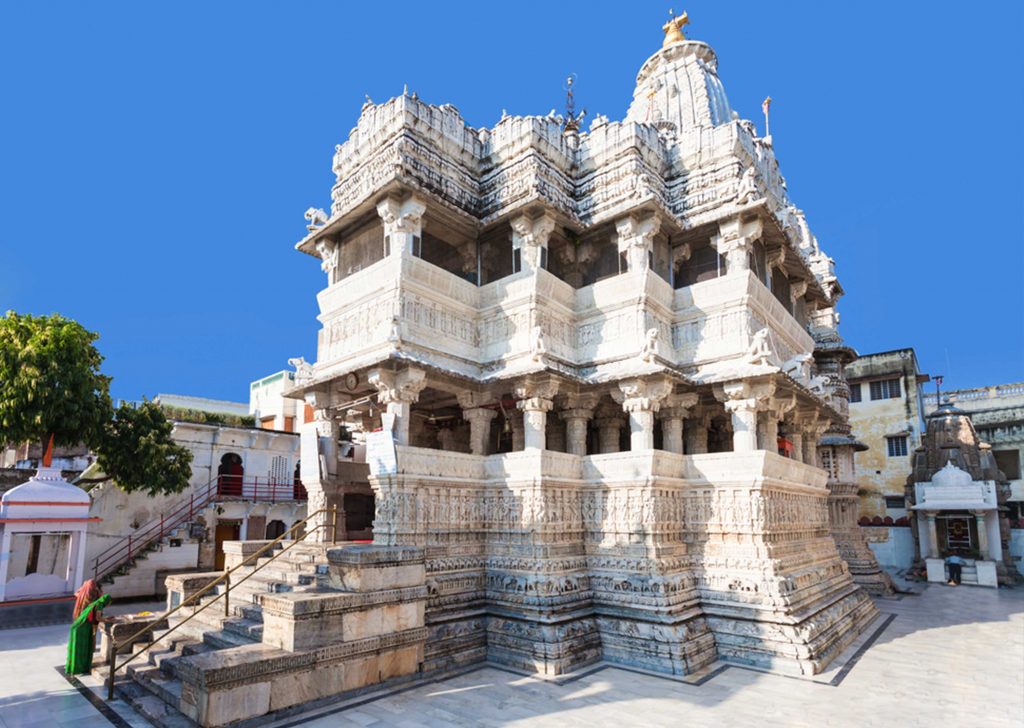 Timings: 05:00 am – 02:30 pm and 04:00 pm to 10:00 pm (Everyday)
Entry Fee: None
Royal Retreat: Saheliyon Ki Bari
Saheliyon Ki Bari, the Garden of the Maidens, is a historical gem built by Maharana Sangram Singh. This enchanting garden was designed for the maids accompanying the Princess of Udaipur. The elegant marble elephants, fountains, lotus pool, and kiosks reflect the richness of the bygone era.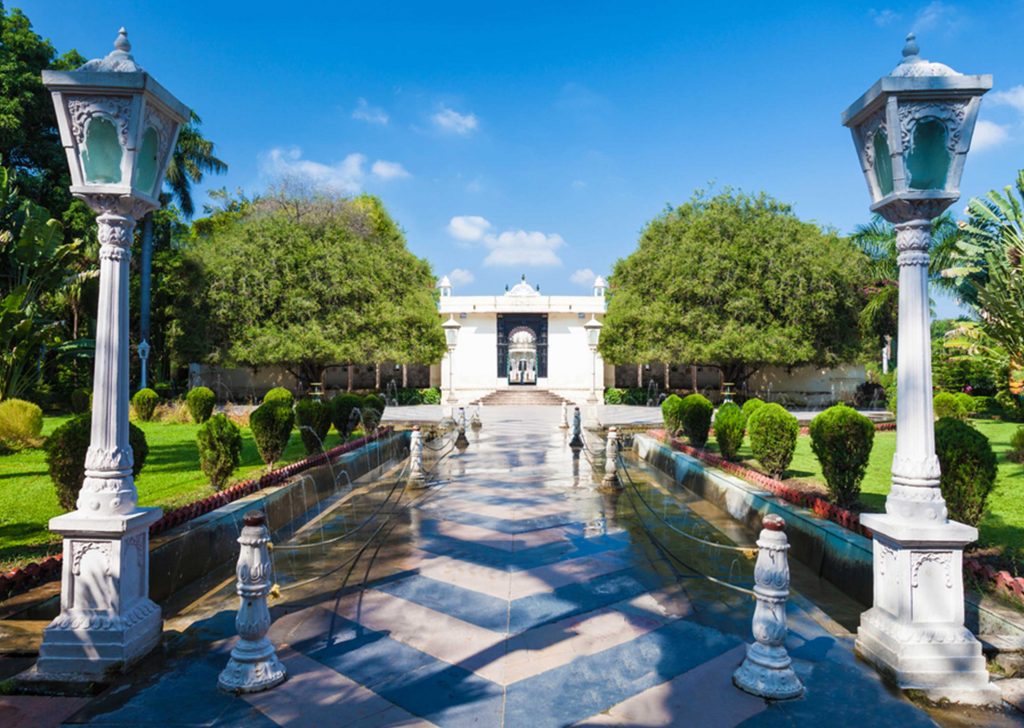 Timings: 9:00 am – 07:00 pm (Everyday)
Entry Fee: Rs. 5 per person
Majestic Monsoon Palace: Sajjangarh Palace
Perched on a hilltop, Sajjangarh Palace offers panoramic views of Fateh Sagar Lake and the Sajjangarh Wildlife Sanctuary. This fairy-tale-like palace is a testament to Rajput opulence, built by Maharana Sajjan Singh in 1884. The palace's illuminated beauty in the evenings is a sight to behold, perfect for capturing stunning photographs.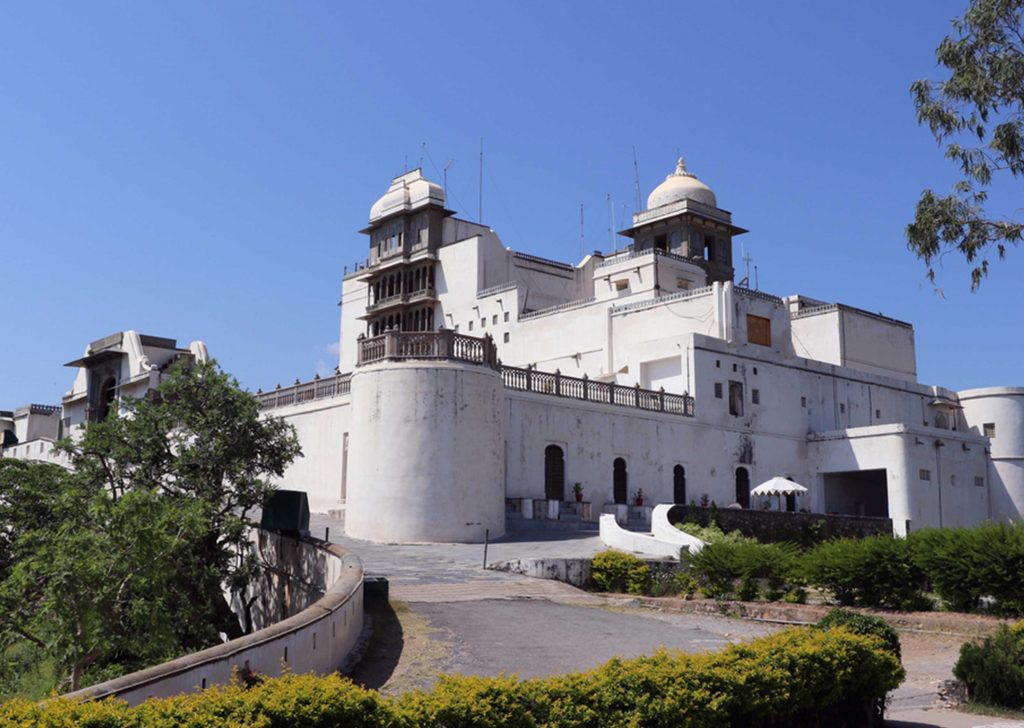 Timings: 8:00 am to 06:00 pm (Everyday)
Entry Fee: Rs. 10 for Indians, Rs. 80 for foreign nationals
The Azure Gem: Fateh Sagar Lake
Fateh Sagar Lake, often dubbed "The Second Kashmir," boasts azure waters against a backdrop of lush hills. This man-made wonder is home to four islands, each offering unique attractions. From public parks to a solar observatory, the islands are a testament to human creativity.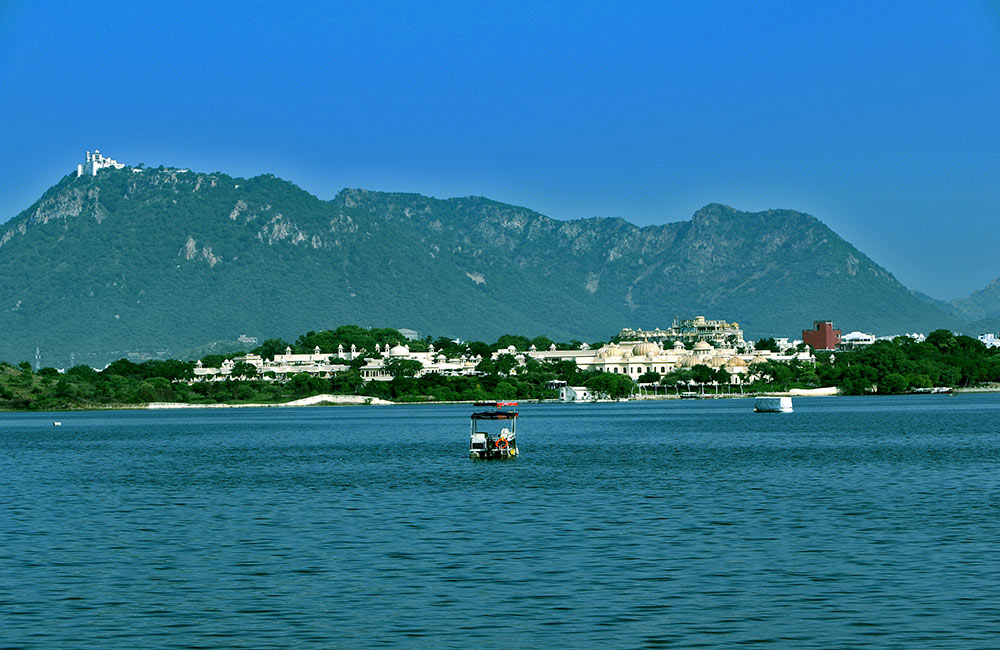 Timings: 8:00 am to 06:00 pm
Entry Fee: None
Boat Ride Fee: Rs. 30 per person for Regular Boat Ride, Rs. 100 – Rs. 200 per person for Motor Boat Ride, Rs. 200 – Rs. 400 per person for Speed Boat Ride
Lake Pichola: A Symbol of Iconic Beauty
Lake Pichola, an iconic symbol of Udaipur, was constructed in 1362 AD. Its tranquil waters span nearly 4 km by 3 km and host an array of palaces, temples, and ghats. From the Lake Palace to Jag Mandir, the structures surrounding the lake offer a captivating experience. Don't miss exploring the Arsi Vilas Island and its bird sanctuary.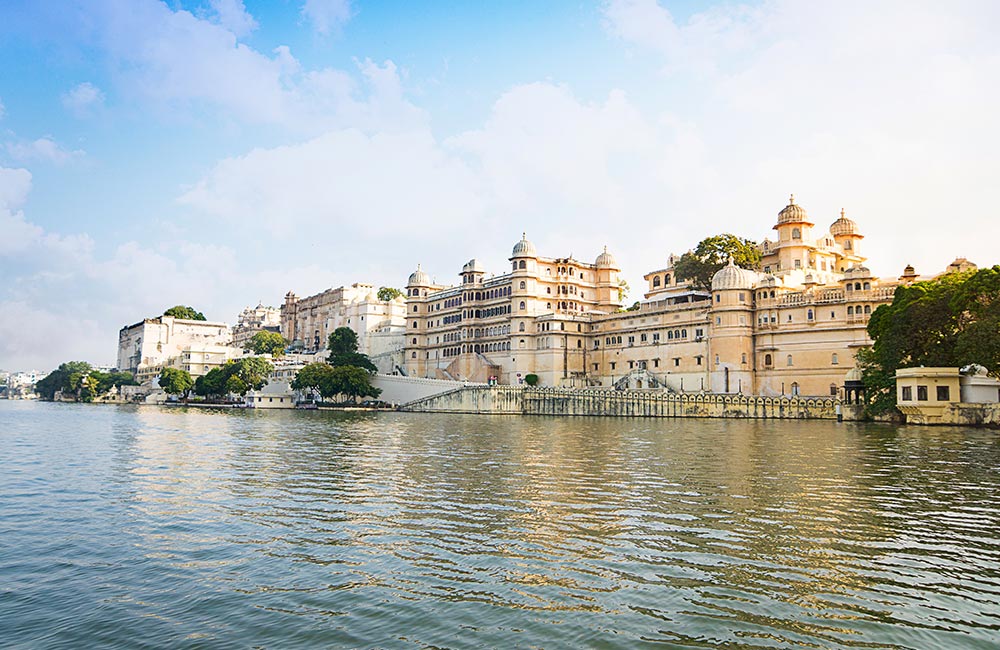 Timings: 09:00 am to 06:00 pm
Entry Fee: None
Boat Ride Fee: Rs. 400 per person for Adults, Rs. 200 per person for Children
Udaisagar Lake
Built in 1565 by Maharana Udai Singh, Udaisagar Lake is one of Udaipur's five famed lakes. This serene lake, born out of a dam across the Berach River, offers tranquil surroundings and breathtaking sunsets. Enjoy a boat cruise or a camel shore-cruise for an unforgettable experience.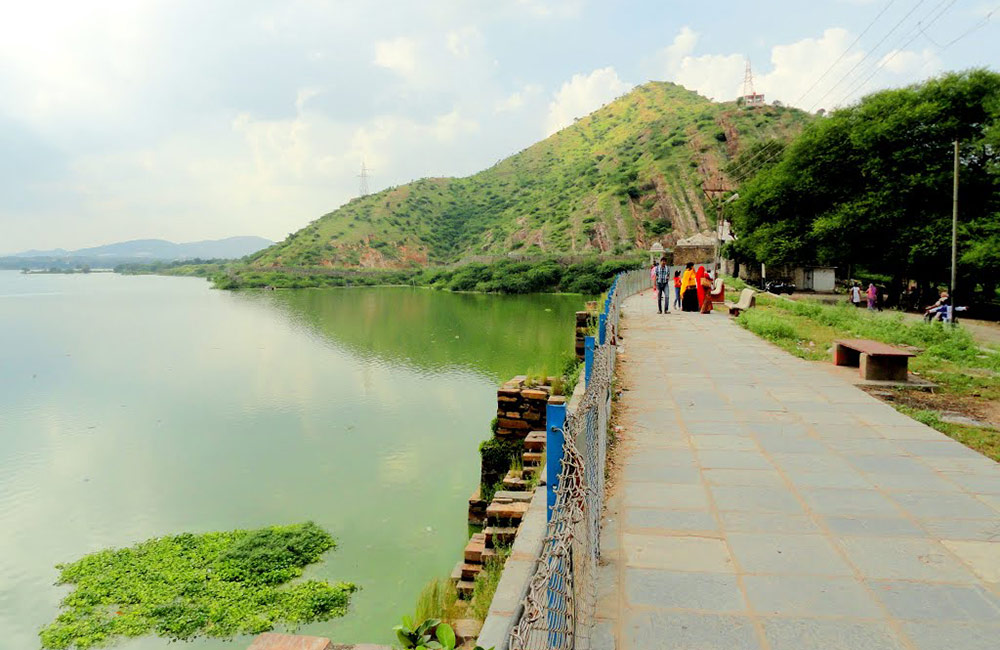 Timings: All round the day
Entry Fee: None
Jaisamand Lake: A Marvel of Grandeur
Jaisamand Lake, also known as Dhebar Lake, is one of the largest artificial lakes globally and a crown jewel of Udaipur. Formed by the Marble Dam built by Maharana Jai Singh, the lake hosts not only water but also marble statues, chatris, and summer palaces. The Jaisamand Wildlife Sanctuary adds to the allure with its diverse flora and fauna.
Timings: All round the day
Entry Fee: None
Boat Ride Fee: Rs. 30 – Rs. 80 per person
Rajsamand Lake: A Historical Gem
Dating back to the 17th century, Rajsamand Lake is famed for its history and the practice of offering gold equal to the Maharanas' weight. The five toranas or weighing arches stand as a testament to this practice, while a Vaishnava temple adds a spiritual touch. Boating on this grand lake is a delightful experience.
Timings: All round the day
Entry Fee: None
Jiyan Sagar: Tranquility Redefined
Jiyan Sagar, also known as Badi ka Talab, emanates tranquility and architectural beauty. Built to combat a famine, this lake boasts Rajasthani-style architecture and a serene pavilion. Enjoy regular and motor boat rides to soak in the peaceful ambiance.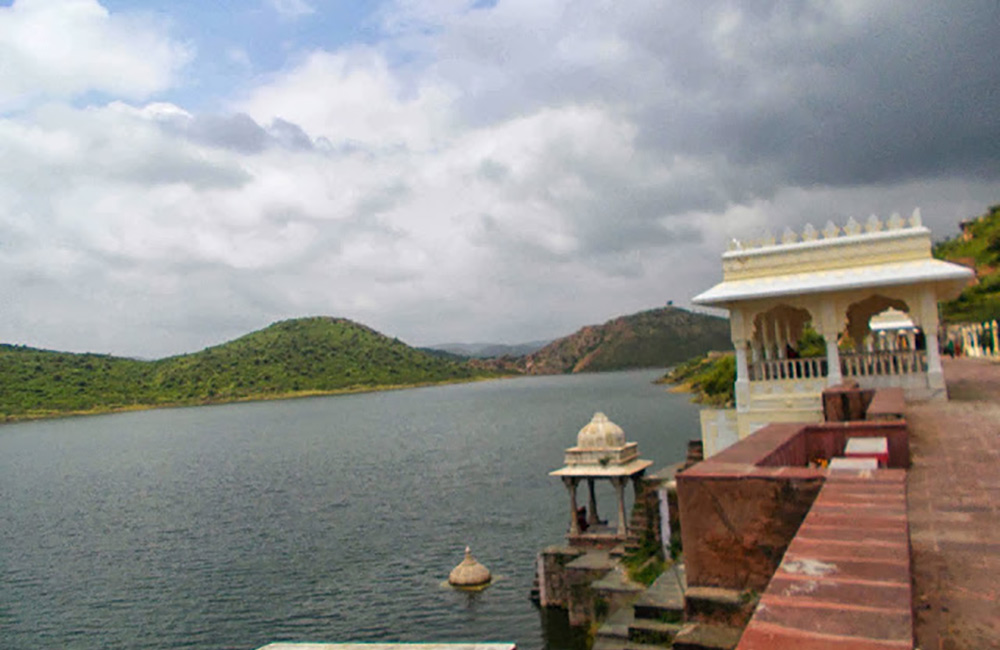 Timings: 08:00 am to 06:30 pm
Entry Fee: None
Boat Ride Fee: Rs. 30 per head for Regular boat, Rs. 200 per head for Motor boat, Rs. 400 per head for Speed Boat
Doodh Talai: A Charming Oasis
Doodh Talai, a small pond near Lake Pichola, is a charming oasis. The adjacent Manikya Lal Verma Garden and Pandit Deen Dayal Upadhyay Park offer beautiful views, musical fountains, and serene temples. It's a delightful spot to relax and enjoy the surroundings.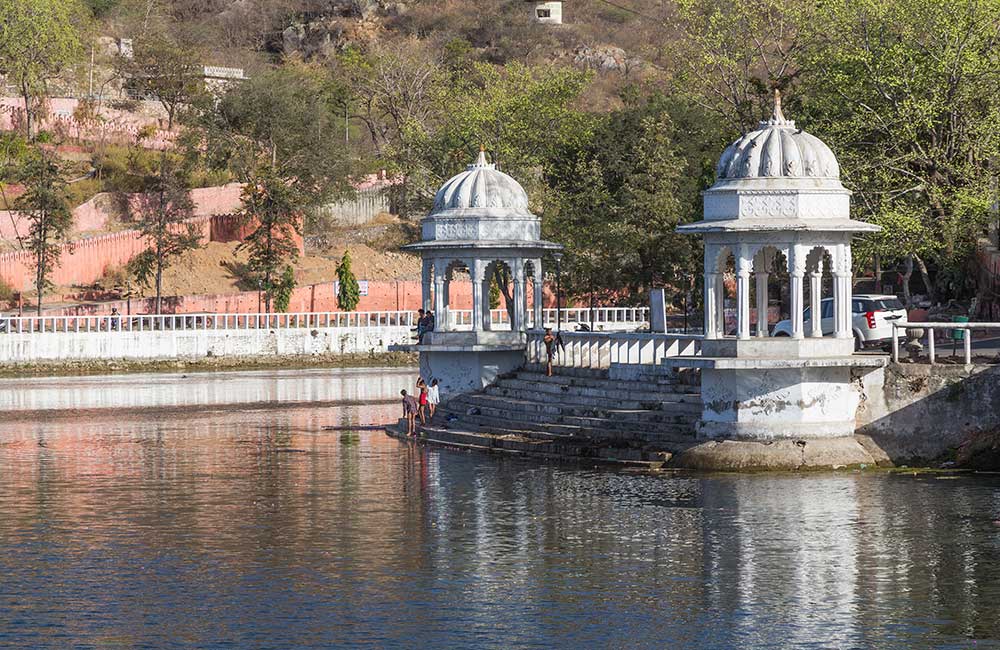 Timings: 08:00 am to 10:00 pm
Entry Fee: Rs. 10 per person
Maharana Pratap Memorial: Tribute to a Warrior
Atop Moti Magri, overlooking Fateh Sagar Lake, stands a lifelike statue of Maharana Pratap and his loyal horse Chetak. This memorial pays homage to the celebrated ruler and the indomitable spirit of both man and horse. Explore the nearby Japanese rock garden and remnants of an old fort for a historical experience.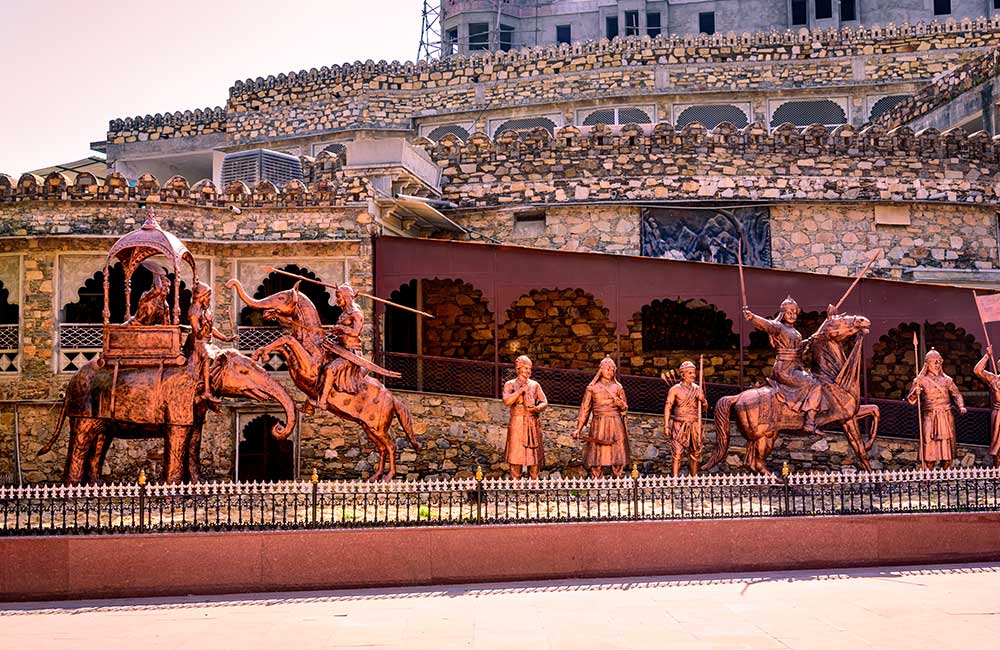 Timings: 09:00 am to 06:00 pm
Entry Fee: Rs. 20 per person for Adults, Rs. 10 per person for Children
Vintage Car Museum: A Glimpse into the Past
For automobile enthusiasts, the Vintage & Classic Car Collection is a must-visit. Housed in a former motor garage, the museum showcases a stunning collection of vintage vehicles, including a converted Rolls-Royce Phantom II and many others. The royal Shell Petrol Pump is a unique highlight.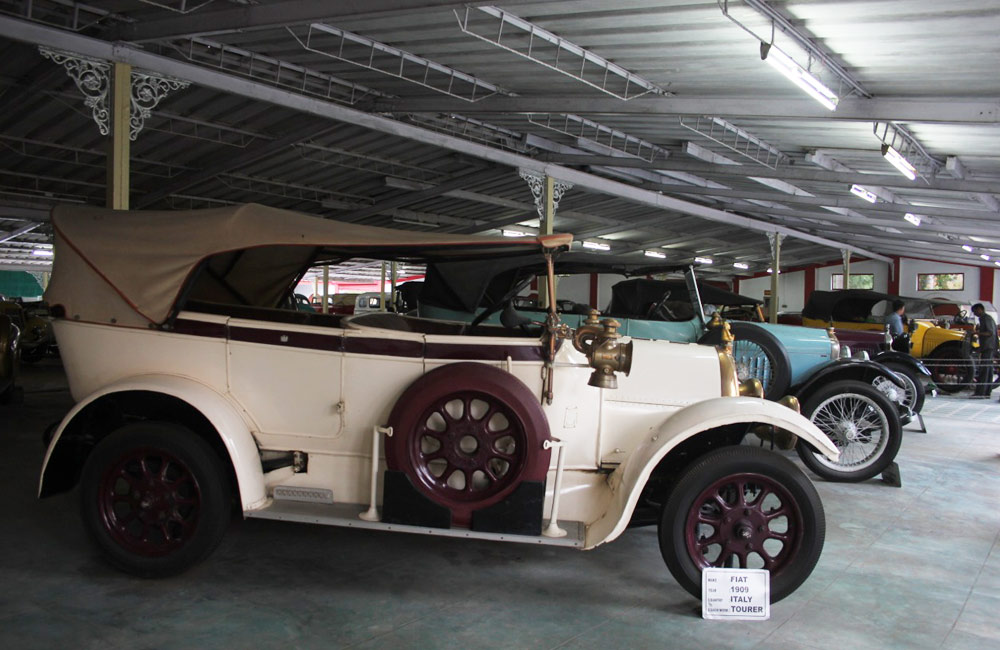 Timings: 09:00 am to 09:00 pm
Entry Fee: Rs. 250 per person for Adults, Rs. 150 per person for Children
Beyond the Must-See: Udaipur's Hidden Treasures
Udaipur offers a tapestry of historical sites and hidden gems. Explore Ambrai Ghat, a stunning pavilion on Lake Pichola, and delve into the handicraft center of Shilpgram. Hathi Pol Bazaar is a shopper's paradise for authentic artworks, while the Crystal Gallery hosts rare crystals that tell stories of a bygone era.
As you wander through Udaipur, you'll discover stories waiting to be unraveled. Every corner, every monument has a tale to tell, making Udaipur a city that enchants and leaves an indelible mark on every traveler's heart.
Frequently Asked Questions About Udaipur: Your Ultimate Guide
Udaipur, often hailed as the "City of Lakes" and the "Venice of the East," is a picturesque gem nestled in the heart of Rajasthan, India. This enchanting city boasts a rich history, stunning architecture, and a vibrant culture that beckons travelers from around the world. As you plan your journey to this captivating destination, you might find yourself pondering some common questions. We're here to provide you with insightful answers, so let's dive into the frequently asked questions about Udaipur.
Q1: Which are the best shopping places in Udaipur?
A: When in Udaipur, you're in for a treat if you're a shopaholic or a culture enthusiast. The city offers an array of shopping destinations where you can immerse yourself in the rich heritage of Rajasthan. Some of the best shopping places include:
Bapu Bazaar: Known for textiles, handicrafts, and traditional Rajasthani attire.
Bada Bazaar: A bustling market offering a range of products, from textiles to jewelry.
Hathipole: Famous for its vibrant assortment of handicrafts and textiles.
Chetak Circle: Ideal for those seeking traditional Rajasthani fabrics and artifacts.
City Palace Street: A treasure trove of artistic handicrafts and souvenirs.
Jagdish Temple Street: Explore this street for intricate handcrafted jewelry and textiles.
Ghanta Ghar: A hub for textiles, artifacts, and local crafts.
Q2: What is the ideal time to visit Udaipur?
A: Udaipur experiences scorching hot summers and humid monsoons. To make the most of your trip, it's advisable to plan your visit during the months of October to March. This period offers a delightful blend of sunny days and pleasantly chilly nights, making your exploration of Udaipur's beauty even more enjoyable.
Q3: Suggest some good places to eat in Udaipur.
A: Udaipur is a haven for food lovers, offering a spectrum of dining experiences that cater to all tastes. Here are some top-notch dining establishments:
Ambrai, Chandni: Lakeside restaurants with a stunning view and delectable cuisine.
Millets of Mewar: Celebrates local ingredients and offers a fusion of flavors.
Palki Khana: Serves authentic Rajasthani dishes in a regal ambiance.
Upre by 1559 AD, Royal Repast: Offers a royal dining experience with a modern twist.
Charcoal by Carlsson: A rooftop restaurant with a panoramic view and an exquisite menu.
Udaipuri Restaurant, Jheel's Ginger Coffee Bar and Bakery, Tribute: Embrace local flavors and international delights.
Q4: How is the nightlife in Udaipur?
A: Udaipur doesn't fall short in terms of nightlife. The city comes alive after sunset with a variety of pubs and bars. Whether you're a party animal or seeking a cozy evening, Udaipur has something for everyone. Popular nightlife spots include:
Panera Bar, Mudra, F3 Bar: Trendy places with a lively ambiance.
Brewz Rock Cafe, Hola Spanish Pub: Great choices for those who love music and dancing.
Hook and Irons, Bamboo Beats: Enjoy live music and refreshing drinks.
The Winos, Tehkhana: Unwind with your favorite beverages in a relaxed setting.
Stallion Sports Bar and Dine, Aangan Terrace Bar: Perfect for sports enthusiasts and outdoor lovers.
AmBar, Jannat Rooftop Bar, Harbour Bar, The Wine Rack: Experience the city's vibrant nightlife scene.
Q5: Where can I enjoy sunset views in Udaipur?
A: Udaipur is renowned for its captivating sunsets that paint the sky with breathtaking hues. To witness these magical moments, head to these spots:
Sajjangarh Fort (Monsoon Palace): Offers panoramic views and is a photographer's paradise.
Jagmandir Palace: Enjoy the sunset by the Lake Pichola.
Sunset Terrace at City Palace Complex: Embrace the grandeur while the sun bids adieu.
Lake Pichola and Gangaur Ghat: Marvel at the stunning reflection of the sunset on the lake's surface.
Q6: Any suggestions for good picnic spots in Udaipur?
A: If you're seeking a relaxing day amidst nature's beauty, Udaipur has several spots for an enjoyable picnic:
Fateh Sagar Lake: Offers a serene environment with picturesque views.
Rajiv Gandhi Park: Ideal for families, with lush green lawns and recreational facilities.
Saheliyon ki Bari: Admire the intricate architecture and serene water features.
Moti Magri, Manik Lal Verma Park: Escape the city's hustle and bustle.
Sajjangarh Wildlife Sanctuary, Jungle Safari Park: Explore wildlife and nature up close.
Gulab Bagh, Marvel Water Park, Jeel Water Park: Enjoy a fun-filled day with family and friends.
Q7: What are the best things to do in Udaipur?
A: Udaipur offers an array of experiences that cater to various interests. Some must-do activities include:
Take a boat cruise on Lake Pichola: Marvel at the city's landmarks from the water.
Capture postcard-worthy pictures: Every corner of Udaipur is a photographer's delight.
Explore historical places: Immerse yourself in the city's rich history and architecture.
Ride the Mansapurna Karni Mata ropeway: Enjoy panoramic views of the city.
Shop at local bazaars: Find unique souvenirs and Rajasthani artifacts.
Tour the City Palace: Discover the grandeur of Udaipur's royal heritage.
Watch the sunset at Fateh Sagar Lake: Witness the sky ablaze with colors.
Spot wildlife at Sajjangarh: Connect with nature in a serene setting.
Hike up to the Monsoon Palace: Get a bird's-eye view of the city and its surroundings.
Q8: How to reach Udaipur?
A: Udaipur is well-connected through various modes of transportation. You can choose the one that suits you best:
By Air: Maharana Pratap Airport serves direct flights from major cities like Delhi, Mumbai, Jaipur, Bangalore, and more.
By Train: Udaipur Railway Station is well-connected to several cities through the railway network.
By Bus: Convenient bus services connect Udaipur to nearby cities, making road travel an option.
As you embark on your Udaipur adventure, you'll find yourself enchanted by the city's beauty, history, and warm hospitality. Whether you're a history buff, a foodie, or a nature lover, Udaipur promises an unforgettable journey.